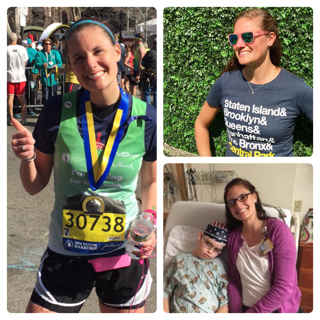 Sarah DiStefano grew up in Southborough, MA, and played soccer and basketball. She was the oldest of three and by the time she entered high school she began to take basketball very seriously. It was also the time that she started to run. Sarah joined her high school track team and rather than running sprints or short distance races, she turned to cross country. And that began the journey that Sarah is on today.
After college she continued to run. And like so many others she found long distance running a way to think, to burn some stress and to stay in shape. She ran her first half marathon in 2012 and it was after those 13.1 miles that she decided she wanted to run that race in the next town over. The race we know as simply, Boston.
For Sarah, running marathons is about the good she can do for others. It's about running for a cause and about supporting those less fortunate. It's about the inspiration she feels from the patients and their families she meets, and it's about the strength she sees in her fellow runners. This is what drives her and it's why Sarah loves being a charity runner.
Samantha Simmons grew up in Brookline, MA with her parents and younger sister, Marissa. She played soccer, lacrosse and ran indoor track while growing up and throughout high school. And like a lot of American kids, she experienced some soccer burnout, so in college, she traded in her soccer jersey for a 'show' jacket and rode for the Trinity College Equestrian Team.
It never mattered what sport she was playing and it doesn't matter now, Samantha just loves being an athlete. Sure, it's about the training, the hard work and the dedication but for Samantha, it's the commitment that she can make to others that moves her most. Whether it was her teammates or yes, her horse, she felt a strong bond to each of them. And to this day, that sense of commitment lives very deep in her.
In 2014 her Uncle Kevin was diagnosed with stage-four melanoma and although his immediate outlook seemed hopeless, the brilliant care of the Dana Farber Institute team helped him live much longer than expected. It was at that moment that Samantha's athletic career changed. She became a marathoner. She ran Boston for the very first time as a charity runner with the Melanoma Foundation of New England, a small team of great people and a wonderful organization. She ran it for Kevin.
Kelly Hansen grew up in a small suburban town surrounded by the cornfields of Minnesota. A high school lacrosse player and slalom skier she headed east after graduation to attend Boston University. She fell in love with the city, its people and their ideas, its neighborhoods and its vibe. And it was 2005 when an 'ex' challenged her to run Boston. She didn't train and she never registered but she stepped to the starting line in Hopkinton and ran as a 'bandit'. She finished, proved someone wrong and happily gave up running for three years.
36 months after her Boston 'bandit' run she noticed a flyer promoting the San Diego Rock n' Roll Marathon benefiting the Leukemia and Lymphoma Society. Like so many others, LLS had an impact on Kelly's life. While growing up in Minnesota, both of her maternal grandparents had died of Multiple Myeloma and it would be this cause and race that would kick start Kelly's running career.
Matt grew up in Winchester, a suburb just north of the city. He comes from a family of athletes. Dad was a tennis pro, Mom a swimmer at St. John's University. His two sisters played Division 1 soccer; K.C. at LSU, Ally at Boston University.
Growing up Matt played Little League, soccer and hockey. He went on to Belmont Hill of the Independent School League where he played soccer, hockey and golf and it's where he discovered his love for fitness. Staying in shape, staying strong. Always. It was his future.
In September of 2016, Matt and his partner, Danny Cooper launched their business, CodeX Strength, a fitness and performance facility on the South Shore of Massachusetts. They focus on building strength through functional movement, on training athletes of all fitness levels, on rehabbing injuries and on groups and individuals. They believe a client's success is a partnership; one based on a custom program and a trusting client/coach relationship, one they call, training for life.
Matt once told us he believes there's an athlete in everyone. Maybe they're at your favorite café, sitting in the cubicle next to you or cutting your hair. Or maybe even in your favorite ice cream truck. They're athletes. And they're everywhere.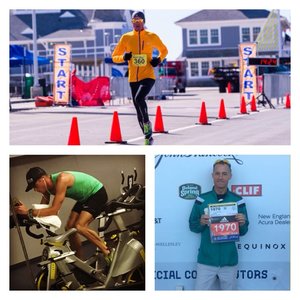 Michael Fitzpatrick is an accomplished high school and collegiate runner with a personal connection to the tragic events of the 2013 Boston Marathon.
Watching from the finish line on Boylston St. was Michael's friend and coworker, Krystle Campbell, a young 29 year-old from Medford, MA. At 2:49 pm, the second bomb exploded 12 seconds after the first, and fatally injured Krystle. Michael had lost his friend. There was grief and denial, anger and pain. There was something he needed to do and something he was going to do. He was going to run for her.
After writing and requesting an Invitational Entry to the BAA, he began his annual, heartfelt tribute to Krystle in 2014, running a determined and blistering 2:58:56 Boston Marathon! It was a Boston qualifier his first time out and each year since, he's qualified for Boston. And each year since he runs for Krystle.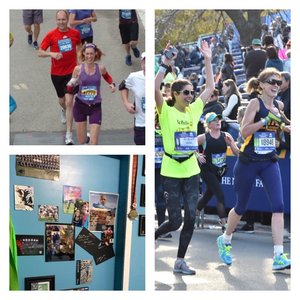 Kathleen grew up in Scotia, NY and today lives in Kingston, NY. She has a degree in theater from Skidmore College and spent many years as a teaching artist, providing professional arts education to homeless and at-risk children. She is an avid runner.
In January 2015, Kathleen Rogan suffered a spontaneous, retinal detachment with multiple tears in her right eye and a few months later, the same happened to her left eye. Her vision narrowed. Every stride was questioned. Every road seemed uneven. Kathleen's running was stopped dead in its track.
After years of rehab and a new companion, her therapy dog, Natalie, she's made a running comeback in a big way. There's a new wall of photos with her sports role models and a wall with awards and medals. Every day they serve as reminder. They remind her that despite the odds, despite the setbacks and despite her disability, she will fight on.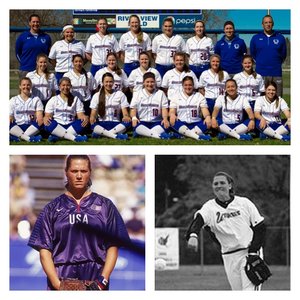 Danielle Henderson by the numbers: 14 No Hitters. 3 Perfect Games. 3-time Collegiate All American. 4-time All Atlantic. 25 school records. 1,343 career strikeouts. 105 consecutive scoreless innings. 2000 Olympics Gold Medal Winner.
For four years, Danielle Henderson wore that number for the UMASS Women's Softball Team. From her pitcher's mound she dominated opposing batters and delivered each 43-foot pitch with a singular purpose. Her numbers speak to that. Her dominance throughout her UMASS career earned her induction into the New England Women's Sports Hall of Fame and in her senior year, she was awarded the Honda Player of the Year, given annually to the nation's top collegiate softball player. And her number 44? It was the first jersey number ever to be retired in UMASS softball history!
After the 2000 Olympics Games in Sydney, Danielle played professionally in the National Pro Fastpitch League. For the three years following, she was an assistant coach at Ohio State; went on to Stanford as an assistant coach and then returned to her alma mater, UMASS Amherst, to become the associate head coach. And today, Danielle is the Head Coach for UMASS Lowell River Hawks.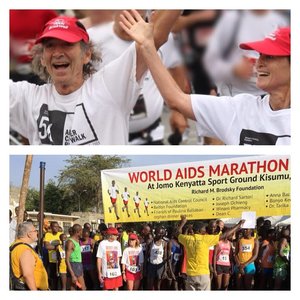 Richard Brodsky has run 56 marathons despite living with HIV and brain cancer.
Richard was born in Brooklyn, NY, moved to North Woodmere when he was seven and graduated with a Bachelor of architecture degree in 1975. In 1978, he moved to Houston and through a local rabbi, he met his wife Jodi. Their first date was a running date. He wasn't much of a runner, 3 miles at most, but they decided to run five. He figured he could talk his way through the pain and the miles, but Jodi would rather just run. The date didn't go well. She wasn't much interested but a car breakdown later, a good Samaritan ride from Richard, and they were engaged after three months.
And they haven't stopped running. Jodi has run 61 marathons, Richard has run 56! We're not sure whether Richard continues to run quietly, but he's sure that running and being married to Jodi has saved his life.
Richards greatest 'run' of all is The Richard M. Brodsky Foundation. Its mission is to raise awareness of HIV/AIDS and cancer. They provide global, innovative outreach programs. And most importantly they give hope to Africa; to some day have better access to doctors; to some day have better education; to some day have cleaner drinking water; better nutrition and shoes. They provide food, shelter, and shoes for Kenyan orphans. He also runs the World AIDS Marathon in Kisumu, Kenya and his foundation will again be co-sponsoring this year's race for the 12th straight year which he and Jodi will run again.
Last week we received a nomination for our Featured Athlete Series from a young man named Eddie. His inspiration is his mom. His hero. Everyday she teaches him about life and how to overcome what might come his way.
Living with osteoporosis meant suffering from countless training setbacks. From a broken foot to a fractured femur and torn labrum, continuing to train and race was a sheer act of will. But that didn't stop her from competing in the NYC and Boston marathons.
Today, Jennifer is on desk duty and rehabbing from hip surgery. She will be back; she always is and will soon be running again with her friends in the NYPD Running Club and the New York Road Runners.
As for Eddie, he's an amazing and very special 11 year-old. A young man who has the maturity to know the gift his mother gives him every day. A young man in his own struggle with Asperger's and a young man who could not ask for a better role model.
No matter how hard and fast life comes at Jennifer and Eddie, they're ready. They'll always be ready. For them it's simple. It's about their love, their faith and good old-fashioned, New York grit.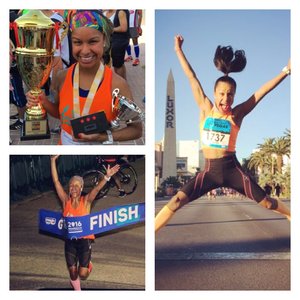 Training for a marathon is all about more. More miles, more time on your feet, more calories, more running shoes, more of everything! Most plans will suggest running 5 days a week. What happens to a runner when more isn't possible? How do they still achieve their goals? That's where Cynthia Martinez's story begins.
Cynthia is more than just a runner. She's a certified personal trainer who specializes in working with runners and endurance athletes. So she understands that sometimes less is more. Sometimes runners need to focus on quality over quantity, even during marathon training. This is a lesson that's hard for many runners to accept. But, Cynthia can prove it works.
In 2015, Cynthia suffered a labrum tear in her hip. Because of that injury she is forced to limit the amount of time she spends running to just 3 days per week. Instead, she incorporates cross training, physical therapy, nutrition and recovery work such as massage and foam rolling. Last year she was able to cross the finish line at the Boston Marathon in 3:18. Clearly, she is doing something right.
In 2016, Cynthia ran in four continents, 11 countries and six states. It's evident her love for the sport runs deep. Giving it up is not an option. With her modified training she hopes to stay healthy and continue reaching new goals.
If you've played hockey you know the drill. You're young. Just starting out. Everyone's getting use to the game and then the Coach asks, 'okay kids, any volunteers to play goalie?' You stare at your skates, you shuffle and you fidget, hoping that someone steps up. And then some kid does.
Brittany Ott was that kid. 22 years ago she claimed that net and hasn't left it since.
She played goalie for the University of Maine Black Bears and started all four years. In 2009 Brittany was named to the Hockey East All-Rookie Team and was the goaltender of the month in November of 2013. She recorded 69 saves against the Mercyhurst Lakers in 2010 and in a 2013 game against Boston College set a Black Bears record of 72 saves. That same year she was awarded the female 'M' (Maine) Club Dean Smith Award Recipient for the top student-athlete in the university.
After graduating from Maine she joined the Boston Blades of the CWHL and played there for two seasons, capturing the Clarkson Cup in her second campaign. Today, Brittany minds the net for the Boston Pride of the NWHL and this season they will be defending the title of Isobel Cup Champions. She had a perfect 4-0 record in last year's playoff run and was also named to the WNHL All Star team.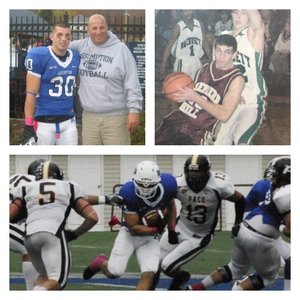 A three-sport star and a great all-around athlete, Nick was also the centerfielder on Shepard Hill's varsity baseball team and starting guard on its basketball team. He was just like him.
His dad coached Nick until high school and he was at every practice and at every game. For all the records and MVP's, for all the awards and all the wins, his dad was there. But the support and the car rides didn't end with talk about a practice or a game, it went beyond that. It went to a place that every true athlete knows they must go and a place where a good athlete can become a great athlete. It was about the sacrifice needed, about his will and determination and the pride that hard work always brings.
His focus is on helping others reach theirs, whether it's running a marathon, swimming competitively or power lifting he trains young athletes the way his dad trained him. As a fitness trainer he cherishes the benefits of strength and conditioning, and treasures the pride his athletes feel. Nick's found his spot, just like him.
Nick Bolio walked off the football field for the last time in November of 2013. His dad's spot is gone now and those end zone moments are too but remembering his dad's excitement and feeling his pride will stay with him forever. Tom Bolio was a great athlete too and he's an even better dad. And most importantly he raised a great son, and yes, he's just like him.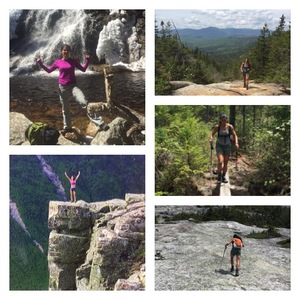 It was every Wednesday and she loved every minute of it. She was young, maybe five or six, but she remembers it like it was last Wednesday. They would hold hands and talk and like any loving dad, he would make her laugh and giggle. But the conversations went beyond cute little jokes and gentle tickles. They went to a place that she would need. A place that would help her for the rest of her life.
Jenny Keefe's father Henry, died when she was 14, a brutal age to lose a parent. But those weekly trips to the ice cream store saved her. They strengthened her. And today, continue to inspire her. Jenny's dad would talk to her about life, about working hard and about sports. He would talk about dedication, desire and will.
She took those talks to heart in her current passion: hiking. A member of the Appalachian Mountain Club, Four Thousand Footer Club, her current goal is to climb New England's tallest 100 peaks - she just finished number 90.
Jenny Keefe has not forgotten those ice cream Wednesdays. She's not forgotten those lessons learned. She lives them on every hike and in every workout. She lives them every day. And she lives them for her dad.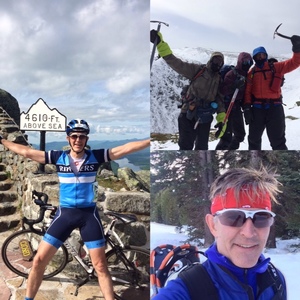 There is a common thread that all Democracy of Sweat Featured Athletes share. It's a mindset. The mindset that has each of them setting personal goals and then following through until those goals are reached. Our newest Featured Athlete, Phil Stern of Winchester, MA, is no different. Well, in some ways he's not different and in other ways, he is very different.
Phil is what we at the Democracy of Sweat would call the Grand Poobah of goal setters. Setting and reaching goals is a way of life for Phil. He finds as much satisfaction in planning, training for and mapping out the logistics it takes to achieve his next goal (or as he calls it….his "next adventure") as he does in ultimately achieving the goal. And based on Phil's adventures, it's a good thing.
We asked Phil what the words Democracy of Sweat meant to him. He said…"It means the first guy up the hill, setting a KOM (King of the Mountain) and the last guy grinding up minutes later. It's sharing the same agony and ecstasy of doing something really hard. This shared experience binds them into a "Democracy of Sweat." Phil, we couldn't have said it better!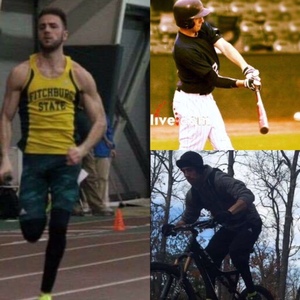 In the 1970's Bob Mello was an outstanding athlete. He received a scholarship to play basketball at Suffolk University and went on to become a successful coach and high school Athletic Director. Fast forward to present day and meet the son named after him who continues to build the Mello legacy.
Sports have been a part of Bob's life for as long as he can remember. Even at a young age there was no off season. Bob excelled at basketball, baseball, soccer and football. By the time he entered high school he narrowed down the list and focused primarily on baseball and basketball. His outstanding athleticism did not go unnoticed. His senior year he was chosen as captain of his baseball team at Arlington Catholic High School and awarded all-conference honors in the Catholic Central League.
It's no surprise that Bob credits his dad as the athlete who inspires him the most. He's learned from his dad to strive to be the best he could and live up to his potential. That drive afforded Bob the opportunity to play collegiate baseball at Fitchburg State University. After two years on the diamond, he switched gears and took up track. It was a natural progression for him as it allowed him to build upon the foundation of all the other sports he had pursued previously.
This past May Bob graduated from college. Like most athletes that grow up playing sports from a young age, he's now at a crossroads. Bob chooses to focus on the positive. For the first time he's free to try any sport he likes. He now has the time to explore mountain biking, golf, kayaking and cross country skiing. He's able to continue bonding with teammates and satisfy his competitive drive with bike racing and men's basketball leagues. His future path as an athlete may be uncertain, but there's one thing he knows for sure. Sports will always be a part of his life. After all, he was born for this.
He plays the drums on the weekends and when he plays he feels its rhythm. But he's not a professional musician he's an athlete. He's a runner and a cyclist and the music is his inspiration.
The music of composer John Williams drives him. And the scores like Far & Away, Amistad, Memoirs of a Geisha and the Empire of the Sun motivate him. It's the emotion he feels from the music that gives him the will to run marathons, to trail running in the Pacific Northwest and to his new challenge of cycling.
Justin was born in Chicago and moved to Orlando at the age of 13. Like many kids, he played baseball and soccer in high school, along with running track and cross-country. He played some ice hockey and lacrosse too.
But it was the running that appealed to him most. It's sacred to him. He finds his freedom in it. His independence. And it's a time for him to let loose, forget about work and just run. It's where he hears the music and where he finds his rhythm.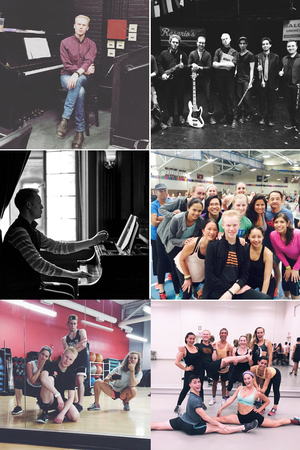 It can't be taught and it can't be learned. Few of us have it. It comes in different forms and can be found in different places. It's hard to explain it but it's easy to spot.
It was out of the corner of our eye when we first saw him. And within a few minutes we couldn't turn away. It was at the Boston Sports Club on Boylston Street on a cold, winter Saturday and he was leading a Zumba class of about 40 students.
Adam Bokunewicz has it. It's stage presence and when you watch him teach you see it right away. His athleticism, his energy, his enthusiasm are contagious and for 60 minutes his students feel every bit of it.
Adam's an athlete, an actor and a coach. He's a musician and a director and an extremely talented young man. But talent alone may never be enough. It's always comes down to dedication, persistence and sometimes, that extra little 'thing'. Adam has shown that to us, on the stage and in the gym. That extra little 'thing' is stage presence and Adam Bokunewicz has it. He's always had it.